Many people love the idea of having a garden on their property but don't have a lot of time to dedicate to keeping it clean and tidy all the time.
Sometimes a client will ask me to clean out their garden and leave a few remaining plants to start again, or the project starts from nothing. With no plants and to create a garden from scratch. The client being realistic will ask for plants and garden ideas that are low maintenance.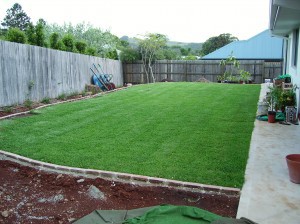 While it is usually plants that are the key to the idea of a low maintenance garden, there are also other design ideas that help to make it easy for the garden to be an ongoing maintenance project.
For example the garden starts from the edge, so the choice of edging is important. With this an edge that is deep enough to keep the lawn from growing into the garden is important. Also, a spade edge lawn, that is one that is just lawn separated by garden by an edge maintained by cutting it with a spade or whipper snipper, can also invade your garden frequently. Be careful also of random rock edging, as the lawn will creep can get through the crevices in the rock that the whipper can never get to.
The next idea to take into account is the soil on the site. What was in the soil prior to planting if not taken care of, can come back to be a maintenance issue. You can put weed mat over the top as many people do, but persistent weeds such as the normal lawn grasses (couch, kikuyu etc) will just grow through it, or nut grass and onion weed if persistent enough will just push the weed mat up,creating a bulge.
With the weed issue checked off the list, mulching is another great way of taking away the need of maintenance in the garden. It should be initially 50-60mm thick and thereafter topped up no less than once a year preferably twice if you have have the time and funds. This way you won't have to spend time keeping the weeds at bay.
The next important factor, is the choice of plants for your low maintenance. Although often overlooked, choosing a plant that fits the space that you have, will greatly reduce maintenance time. Plants that grow rapidly should also be a no go for a low maintenance garden.
A plant with a specified 40cm growth habit will need more maintenance to fit into a garden area 20cm wide.
Don't initially overcrowd your garden as your plants will become full in no time and try and out compete each other.
Be Patient! Don't try and overcrowd your garden when planting. Plants will all fill the space they have been given sufficient time
Try to choose plants that don't grow too high as they will get tall quickly and if you don't keep their height in check they will get big and require the cost of a tree surgeon to get them back under control.
Planting too close to the edge will also create a need for constant maintenance to keep the plant away from your ankles when the weather gets wet.
Lastly, hedges are a high maintenance nightmare. If you want them looking good you have to put in the up keep. Plants like Duranta Sheena's Gold are the highest upkeep, while Murraya or Orange Jessamine, won't grow as fast and because their growth habit is more uniform, and if you let them go for a while they will still look good. Often overlooked is the idea of an informal hedge or a screen planting to save maintenance time. Plants chosen like the Murraya are not given any hedging maintenance but still provide that hedged screen look.